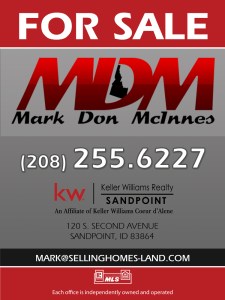 By now we are all aware of, and comfortable with the fact the real estate market is healthy and strong. There are no signs indicating that is going to change anytime in the near future. Sellers across the nation are pricing their homes at higher and higher prices. North Idaho Sellers Beware… relates to any sellers, not just those in North Idaho.
A seller will often state one, maybe even two or three, reasons why they need price their home far above the market price. I am not talking about 5%, 10% above market, but more like 20% to 25%. They will justify it with the same statements. So much so, that Keller Williams has put together a template flyer, for sellers, showing the exact statements that should not be used when deciding on a home price.
As seen there are six basic statements with variations to all those:
"What you paid" "What you need"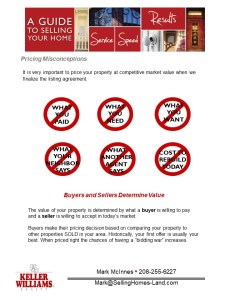 "What you Want"
"What your Neighbor Says"
"What another agent Says"
"Cost to rebuild today"
A good agent should be showing you comparable homes that have sold in the past 6 months, one year at most. Expired homes in the past 6 months, as well as current active homes. The most weight being put on the sold homes.
While a guide to what your competition will be, one must be careful not to put too much weight on active listing prices. Someone can ASK whatever they want for a home. That does not make it a legitimate market price. Expired listings tend to show what potential buyers are not willing to pay for a home.
A good agent will work with you. They will want to get you the most money for your home as possible. They will take into consideration all factors that affect the price of your home. Do not let yourself, as a seller, get caught up in the "I have to haves'. It will cost you money in the long run.