4 bedroom home at 440 Creekside in the Kalispell Bay area of Priest Lake has so much to offer it is difficult, if not impossible to list and describe everything in a single post or video. With my open house this weekend I was reminded of the dark nights and deep quiet of mountain cabins that can only be found away from city bustle. This Priest Lake Idaho Cabin for Sale is roughly 5 miles north of the small North Idaho town of Priest Lake. The quiet, both day and night, soothes the soul and clears the mind.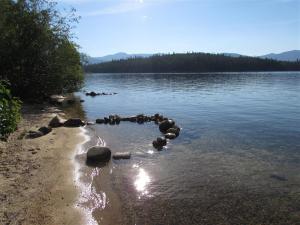 Lake access is less than a mile away. Before start time of the Open House I also enjoyed a moment at a Day Use Beach, Kalispell Bay area. While more open, it was no less spectacular in sitting for a moment to overlook a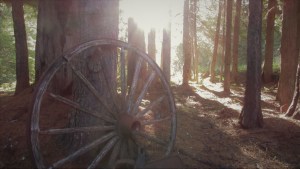 small portion of Priest Lake.
With a year round creek running just off the rear deck and back yard the homes address, 440 Creekside, is quite apropo. Standing at night on the back deck, the dark wraps around you like velvet and the whisper of the creek water mesmerizes.
The early morning sun breaks through the trees sending long shadows and rays of soft light past the creek onto the rear lawn and into the window of the house. Occasional bird chirps being all that break the quiet. Enjoying a morning mocha on the rear deck I felt it important to try and express the quiet of the home.
This YouTube video demonstrates the quiet and special beauty out your door. Yes the video may seem boring unless something inside you yearns for the quiet that can only be found away from the bustle of city living. Whether it be year round or for getaways this home is an opportunity for something special in any persons life. Take a moment to enjoy this short video.