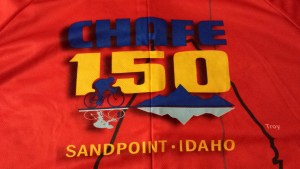 Sandpoint officially welcomed summer with Memorial Day 2017 weekend just behind us. With the diversity of all North Idaho has to offer in, mountains, lakes, rivers, open terrain, and so much more, does it not stand to reason the activities at or near Sandpoint would be just as varied. One of many events throughout the coming summer is the infamous bicycle ride, Sandpoint Rotary Chafe 150. This years date is June 17, 2017.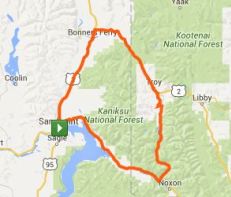 Sandpoint Rotary Chafe 150 is not an event you decide the night before to do. Even a month before would be trying for most, and almost impossible without biking experience. A bicycle ride around a section of the Cabinet Mountain range. You guessed it…150 miles starting in Sandpoint and ending same. Two lesser mileage rides, of 80 and 30, are available to make the experience available to as many as possible, not just the hard core bicyclists who tackle the full and challenging 150 miles.
Grand Fondo actually means 'Great Party' and the Chafe 150 is meant to be just that. 7 rest stops are found along the routes course. They supply much-needed liquids, special ice cream treats or tasty goodies, special to a specific stop. Breakfast is served at 'Trinity's at the Beach' prior to start time of 6:30am. At rides end enjoy a buffet meal, adult beveridge, and the atmosphere of like-minded people enjoying their successful ride.
Participants of the 80 mile ride load their bikes into a semi truck and then themselves into a bus heading to Troy Montana where they start their journey. Amazingly many of the 150 riders will 'catch' the 80 mile riders before rides end.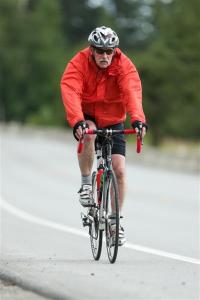 Having enjoyed the 80 mile challenge last year I was impressed with the camaraderie of practiced and seasoned riders with those just beginning, or not nearly as advanced. I completed the 80 mile and was passed by many of the 150 riders. To a person there were words of encouragement, as they passed, knowing full well they had caught up with one of the 80 milers. I was very impressed from beginning to end with the experience.
If you are a cyclist, and wanting a fun challenge, you might want try Sandpoint Rotary Chafe 150 this year. If you feel you are too late to train now make plans for the ride next year. Come to Trinity's and enjoy the riders as they finish their own personal challenge. The event is a charitable event with funds going to Lake Pend Oreille School District to assist students on the Autism spectrum and to fund college scholarships. For more information, visit www.CHAFE150.org